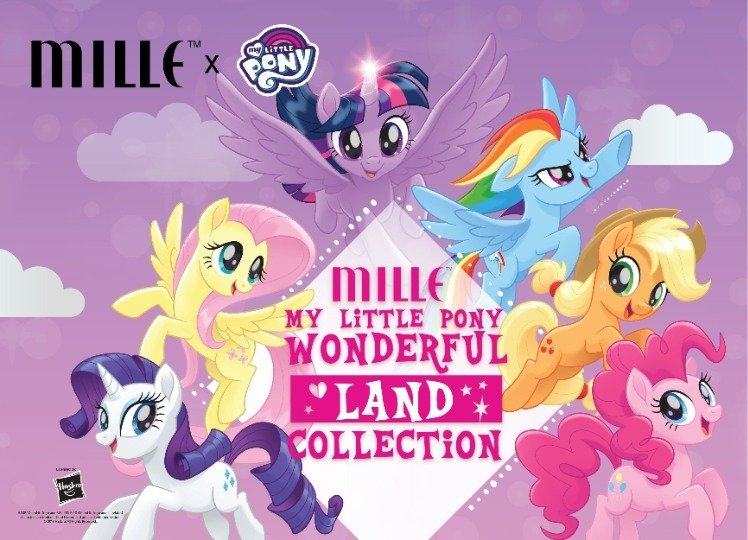 WHAT IS IT?
Mille X My Little Pony Wonderful Lip Colour (Available in 9 shades) – RM59.00 each
The release of Mille X My Little Pony Collection gives us the My Little Pony fans to relive our childhood memories! We are once again in friendly feud with our besties on which character is the best: Rarity, Twilight Sparkle, Fluttershy, Rainbow Dash, Applejack, or Pinkie Pie! Regardless which is the best characters, one thing we all do agree on is this collection is worth to be classified as our beauty collectible. Besides its high quality of lipsticks, its adorable packaging has simply captured our heart and definitely earns its own space on our vanity table. However, all makeup junkies know the golden rule 'do not judge its book by its cover' so we have tried and tested this collection and this is our findings:
WE LOVE IT BECAUSE:
· The lip colour is highly pigmented and creamy, offering lips with hydration without feeling dry
· The buttery rich colour glides evenly, leaving lips with soft matte finishing
· It comes with long lasting formulation without having to reapply throughout the day
· Mille is a reputable cosmetics brand from Thailand, we certainly have no doubt in its lipstick quality
· It is available in 9 shades, there must be one (or more) that suits your skin tone!
#01 Flustershy
WHO WILL LIKE IT
·Makeup junkies
·My Little Pony fans
·Those who love soft matte finishing lipstick
- PLAY UP Squad -